DASHBOARD and GUIDE
Discover how to make a better use of the dashboard, how to switch from admin to educator mode and how to use guide functions and step-by-step support.
ADD NEW CHILD
Learn how to create a new child profile, match adults and add further useful information for educators when checking profiles.
ADD NEW EDUCATOR
Learn how to add a new educator in EasyNido. Fill all the mandatory fields and the e-mail address, the system will send a temporary password to the educator in order to gain the first access.
CREATE A NEW CHILDREN SECTION
Create sections for children, select them among those listed in EasyNido, match to the created section one educator or more so that they will be able to manage the journal in their private section.
VIEW CHILDREN ATTENDANCE
In this section you can check the children attendance summary. You will find in the screen a list of days and timetables, sided by information about accompanying and pick-up adults, present educators and child's section.
You can also export a .pdf file for the selected month
REGISTER ENTRIES SET ACTIVITIES
Set up activities and workshops for yor kindergarten and add a brief description, so that educators can easily select and add it in the children journal.
REGISTER ENTRIES SET LUNCH
Find out how to add all available food in your kindergarten lunches, so that meals assignment will be easier and quicker.
CHILDREN CREATE QUESTIONNAIRE
Find out how to create a questionnaire for parents to better understand their child's habits
IMPORT CHILDREN AND RELATIVES
Import through your .xls or .csv file children and relatives in EasyNido
CHILDREN PROFILE
Check profiles of children who have been assigned to you. In the summary page you can view all children details, associated adults and journal preview. If you click on a child you will see the detailed profile.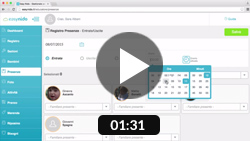 ATTENDANCE ENTRIES ON THE JOURNAL
Choose among "Entry", "Exit" or "Absence", add time and the related adult who accompanied every child. Fill in all information in order to complete the journal.
ADD JOURNAL ACTIVITIES
Select an activity among the available ones, modify or add description and choose the related children. You can also add optional notes for every child.
ADD POTTY IN THE JOURNAL
In this section educators can add informtion about children potty needs. Select a child poop type, quantity and colour; you can also add notes if necessary, that will be displayed on the journal.
ADD NAP IN THE JOURNAL
Add start and end time and select a child. You can also include further notes to be displayed on the journal.
ADD LUNCH IN THE JOURNAL
Set children's lunch in 4 steps, select meals and children, define quantities and add notes to be viewed by parents.
CHANGE PASSWORD
In this section you can change your temporary password automatically sent by the system.